Local Art on Display
Aloft Asheville Downtown will feature a quarterly gallery exhibit in the public lounge area on the second floor
Kenn Kotara
Kenn Kotara is the first artist to be featured in Aloft's gallery exhibit. Additionally, Kotara has crafted a large scale permanent piece commissioned by the Aloft Asheville's developer, McKibbon Hotel Group, that will be prominently displayed on the grand staircase landing leading up to the main lobby area of the hotel. The piece contains 10 phrases crafted in Braille that guests are encouraged to decipher and solve as part of a special fundraising activity for Industries for the Blind Asheville and the Buncombe County Literacy Council.
"Kenn takes intellectual art to a whole new level," says Liz Barr, Director of Art Resources who helped the hotel source local artwork. She says Kotara's work was a natural choice to complement our charity partner promoting literacy.
Kenn Kotara earned his BFA in graphic design and later an MFA in studio art from Louisiana Tech. He is originally from Louisiana, but currently resides in Asheville.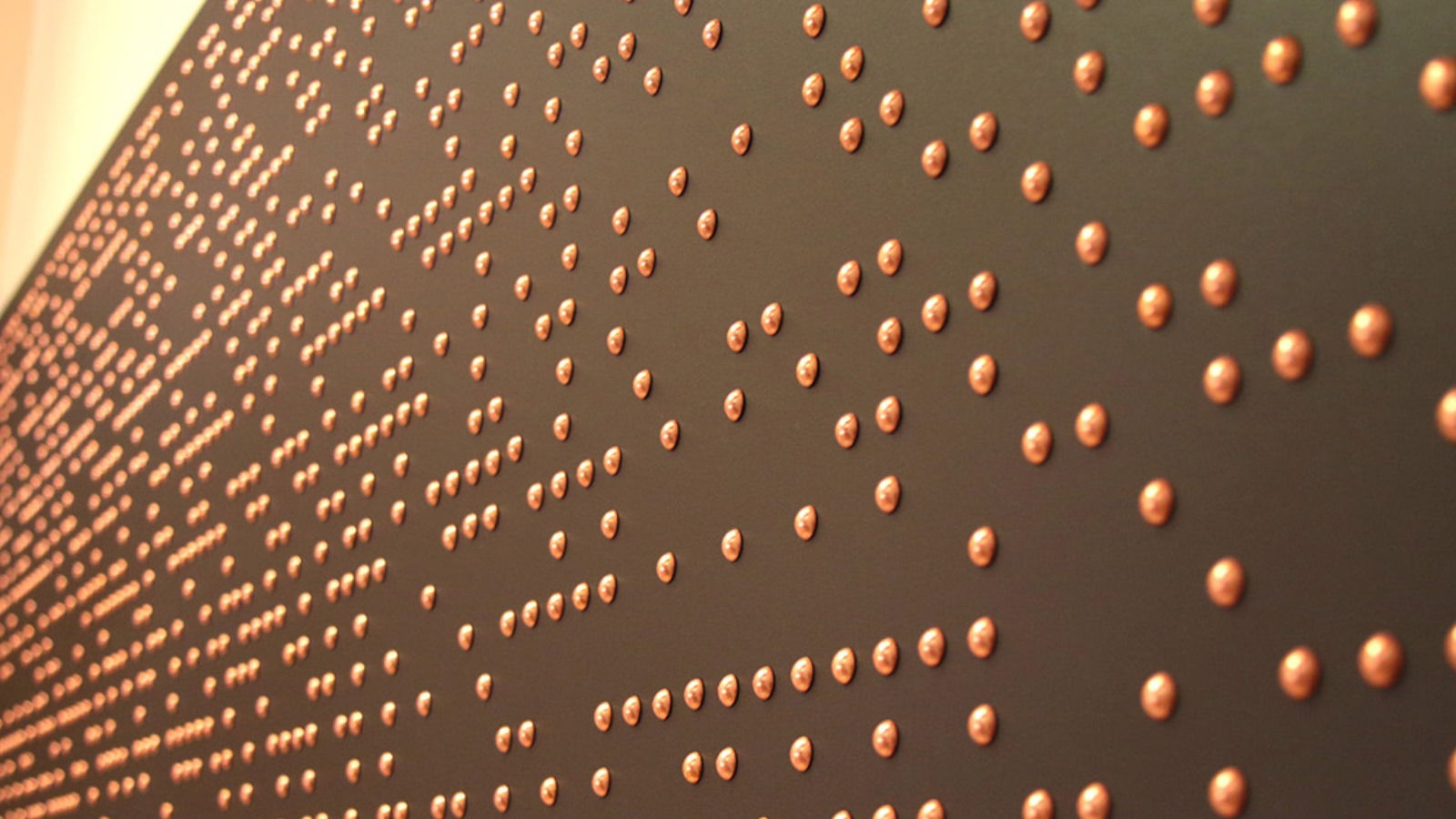 Other Art in the Hotel
Elizabeth L. Barr, Director of Art Resources based in Asheville, NC is an Art Consultant with over 25 years experience assisting Architects, Interior Designers and clients with art acquisitions for hospitality, healthcare and corporate projects as well as personal collections.
Barr has been retained to select local artwork for display in the hotel. She held many prominent art consultant positions prior to forming Art Resources in Atlanta, GA fifteen years ago. An Asheville native, she returned to the city and became an affiliate of Art Source LA Santa Monica, CA as the Senior Art Consultant for the Southeast. She is a Founding Board Member of the Network of Executive Women in Hospitality-Atlanta Chapter and continues to promote and support Handmade in America, Southern Highlands Craft Guild, Penland, Piedmont Craft Guild, MESDA (Museum of Early Southern Decorative Arts), SECCA (Southeastern Center for Contemporary Art) and the NC Arts Council.
More than 10 local artists were selected to supply artwork for Aloft Asheville Downtown.
STEVEN FORBES-DESOULE
Steven Forbes-deSoule created three raku pieces featured in the motor lobby. After serving in the US Navy and pursuing two corporate careers, Forbes-deSoule found his true calling in ceramics. Steven moved to Asheville with his wife in 1981, and later built a home and an 1100 square foot studio, available to view by appointment. He has been featured in '100 Artists of the South' (2012) and other publications. He teaches workshops at locations throughout the Southeast US and Canada.
THOR BUENO
35 silver 'stones' can be seen on the curved wall of the motor lobby. Each stone was hand-blown and then put through a multi-stage process to apply the silver coating by Thor Bueno of Bueno Glass. Thor grew up surfing in Southern California and started blowing glass in 1979. Studying as a painter with Italo Scanga, he received a BFA from University of California at San Diego and an MFA in Glass from Alfred University. Bueno went on to blow glass in 11 different countries. He received the "Tiffany" Award from the Louis Comfort Tiffany Foundation. He has been featured in DWELL on Design and Architectural Digest.
JOE GEMIGNANI
Three abstract works of photography by Joe Gemignani can be found in the hotel's breakfast area, titled 'Abstract Fruit'. Joe was born and raised in Brooklyn, New York, but now lives in Asheville. He has traveled worldwide to photograph the people and places of diverse cultures. Much of Gemignani's Polaroid, digital and fine art photography contrasts the physical and ethereal beauty of tropical, rural and urban environments with images celebrating varied lifestyles and architecture.
CASSIE RYALLS
Cassie Ryalls is a ceramics artist who created three pieces that are located in the second floor lobby niches. Cassie studied ceramics at the University of Florida and Penland School of Craft before earning a BFA in Art and Psychology from Berea College in Kentucky. She has worked as a teacher, as well as an artist.
GRANT PENNY
Grant Penny creates paper collage from layering Lokta paper, handmade and dyed in Nepal from a plant that grows at high altitudes in the Himalayas. He grew up in central North Carolina and moved to Asheville in 2003. Penny was inspired and taught by his mother who was a graphic designer and artist. His compositions start with a photograph, but are created completely in paper. One of his handmade collage pieces can be found in the In Touch business center.
MILES SHAY
At the third floor Air Level/Splash entryway hangs a piece by internationally recognized sculptor, Miles Shay. His work is in over 700 private and public collections including Russia, Brazil, Singapore and Europe. Miles currently is working on a large commission for the Venetian Hotel, Las Vegas and recently completed works for Noble Investment Group and Marriott Hotels. Shay was a member of the North Carolina Arts Council and recently relocated to California.
STEPHEN LANGE
A reproduction of two pieces created by Stephen Lange can be found hanging in both the king and queen guest rooms. Lange was born in Virginia and has two brothers who share his love of art. He studied graphic design and art history in college, and later became an apprentice for his older brother. His works have been shown in dozens of galleries, restaurants and festivals. He lives with his wife and daughter in Asheville.
DONALD SULTAN
Donald Sultan is an internationally recognized painter and multimedia artist born in Asheville. He started his career as an actor and became interested in film and broadcast. Sultan elected for a more individual art form and began painting. He has received a BFA from University of North Carolina and an MFA from School of the Arts Institute in Chicago, as well as numerous honorary doctorate degrees and national art grants. His work can be found in every king and queen guest room of the hotel.
RICK MELBY
A completely custom metal and glass jewel chandelier created by Rick Melby hangs in the hotels lobby stairway. Melby was raised in Florida and spent many years honing his craft and developing the art scene in Tampa's Ybor City. He moved to Asheville in 1994 and opened a small showroom in the River Arts District in 2005. He has been published in several books and magazines, and is well respected among his peers in Asheville. He recently moved to the Midwest.
STEWART O'SHIELDS
Photography in some guest suites has been provided by Stewart O'Shields. Growing up in Asheville, O'Shields found inspiration in graveyards and 'haunted' houses. After high school, he moved to Manhattan and attended the Fashion Institute of Technology. There he worked as a fashion photographer. O'Shield's continued his career as a staff photographer for Tiffany & Co, and later an interior photographer, capturing everything from historic interiors in Europe to modern mansions in Malibu. He moved back to Asheville in 2003.
LYNN HARTY
Lynne Harty is a commercial and fine arts photographer. Originally from Atlanta, Georgia, she completed her BFA at the University of Georgia. She's traveled the United States to take stock photography, portraits and commercial photography. Harty now resides in Asheville. Her work can be seen in selected guest suites.