Arrival Information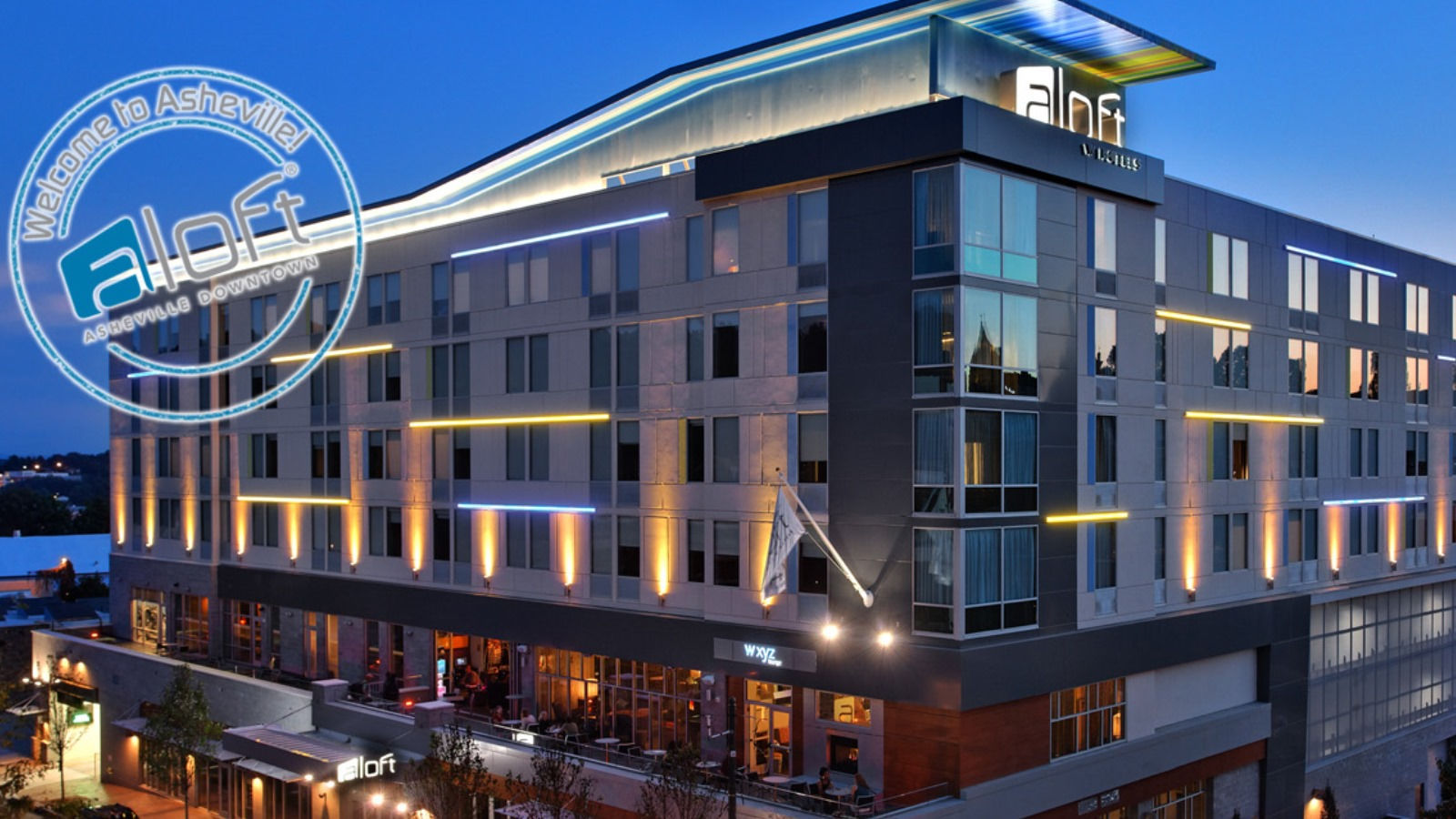 Get ready for an amazing hotel experience at the Aloft Asheville Downtown! Our team is working hard to put together a great visit for you, and we're sure that you'll find plenty of opportunities to discover the uniqueness of Asheville during your stay.
And remember, if you are looking to dine at one of the top Asheville restaurants, please make a reservation 2-3 weeks in advance for dinner. Please let us know if we can assist you.
Here are a few tips that will make your arrival and check-in go smoothly:
Hotel Arrival
If you are arriving from south of us (Biltmore Village area), come up Biltmore Avenue and turn left at the light on Hilliard (just before the Orange Peel). Go behind the Orange Peel to Lexington Ave, then turn right. There is a back entrance to the garage off of Lexington. Park and proceed up the stairs to our second-floor check-in desk, or you can continue to Aston St., turn right, then right again on Biltmore, and that will position you to pull into our Porte Cochere to unload your vehicle and check in.
If you are arriving from I-240, take Exit 5A toward US-25. Go South on Broadway St., which will turn into Biltmore Avenue. The hotel will be on your right, and you can pull directly into the Porte Cochere to check-in.
Parking in our garage is $9/night and allows in and out privileges. Parking for cargo trucks or vehicles with trailers is not available. The parking garage has a maximum allowable height of 7 feet.

Things to do in Asheville
Asheville might be known as Beer City USA, but it's also a culinary delight, with so many dining options to choose from. On-site, you can enjoy The Blackbird, with cooking grounded in the traditions of the Carolinas. Check out other top Asheville restaurants nearby and make sure to call in advance! Please let us know if we can assist you in making reservations for you.
When it comes to things to do in Asheville, there is something for everyone at any time of the year. Be sure to check our chalk wall during check-in for the latest happenings in Asheville.
Puppy Love
Don't forget, if you plan to bring a four-legged member of your family, let us know. We are proud to be a pet friendly hotel in Asheville, NC and have a no pet fee policy, and our Arf program includes a dog bed, water bowl and mat, as well as a toy and a special treat. Asheville is very pet friendly, and there are many activities that you can enjoy with your pooch during your visit.
We look forward to seeing you soon.